We trade from our own building, the magnificent HUGUENOT HOUSE ca 1752, a restored Early Cape townhouse with grandeur, and arguably one of Cape Town's best kept secrets.
In 1752 Governor Ryk Tulbagh granted Erf Number 6 on the corner of what would become Loop and Hout Streets. Here an Early Cape townhouse of great elegance and grandeur was built. During the late 18th Century, Dutch artists decorated the house with neo-classical wall paintings which were discovered during restoration in 1993. In the reception area, then owners Mr and Mrs von Wielligh and their children were depicted as Roman golds in a style reminiscent of artwork discovered in Pompeii in 1780.
In the early 1800's, a group of wine merchants bought the house from which they sold and exported wine from the Franschoek Valley, hence the name Huguenot House.  Today, the original wine cellar houses the Aurum Art Atelier as well as the Museum of Gems and Jewellery.
One of 3 home water wells to be seen in Cape Town was discovered during the restoration of the original kitchen. In Winter, groundwater siphons up and visitors still drop a coin- for blessings on their engagement or marriage, or hoping for a return to Cape Town.
You are welcome to relax in our indoor garden with refreshments.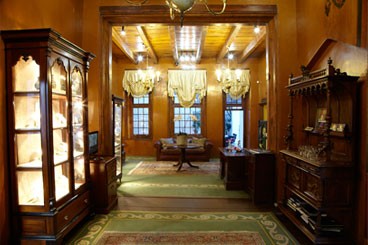 The Reception
Welcome to the 'voorkamer" of Huguenot House, where an inviting reception and refreshments await you.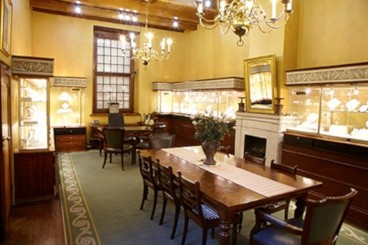 The Showroom
Browse without obligation through our showrooms, or ask for a consultation in one of our private rooms.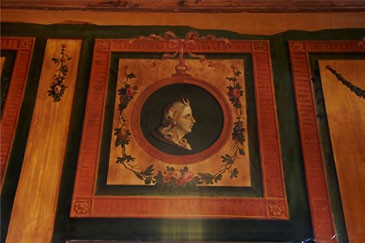 Prins & Prins
In the 19th century the property was owned by wine merchants, and today, clients and visitors are still treated to some of the best wine in South Africa while browsing or enjoying our indoor garden.
Take a walk through Huguenot House