Prins & Prins is situated in the magnificent HUGUENOT HOUSE, a restored 18th century building of immense grandeur, and arguably one of Cape Town's best kept secrets.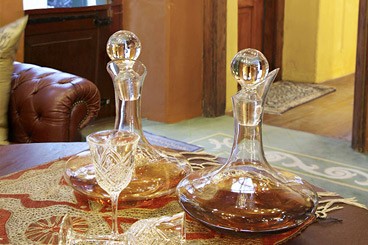 Reception:
An inviting reception are awaits you at Prins & Prins. Entry is into the original "voorkamer" of this historic 18th century property.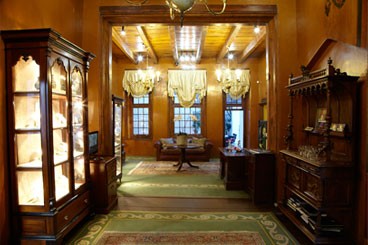 Showroom:
Browse the showcases in this private showroom, and marvel at South Africa's mineral wealth, expertly transformed into glittering piece of handcrafted jewellery.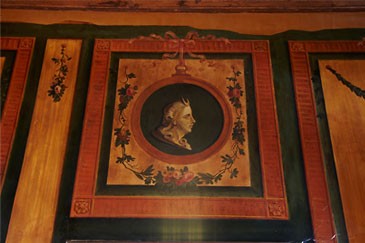 Prins & Prins:
In the 19th century the property was owned by wine merchants, and today, clients and visitors are still treated to some of the best wine in South Africa while browsing or enjoying a private consultation.

In 1752 Governor Ryk Tulbagh granted an erf on the then edge of Cape Town, today know as Loop and Hout Streets. A home of unrivalled elegance and grandeur was built and was home to some of Cape Town's wealthiest and influential merchant families of the time. Magnificently decorated during the later 18th century by Dutch artists, murals on the walls (on display today after a lengthy restoration project) take visitors back to a time of elegance and grace in the heart of "old Cape Town". Beautiful works of art incorporating neo-classical styles with Romanesque influences adorn the walls of the reception, and depicts the family members as Roman gods and goddesses, very reminiscent of artwork discovered in Pompeii in 1748.
In the early 1800's a group of wine merchants exporting wine from the Franschoek Valley to Europe and other parts of the world, took over the property, and converted the property into the biggest wine trading centre in South Africa, after Groot Constantia Estate. With their association with the French Huguenots, the name of the property came to be, and the property is still known nearly 200 years later, as Huguenot House. The intimate wine cellar today houses the Prins & Prins Goldsmith Atelier,(Aurum Art), as well the Museum of Gems and Jewellery.
One of 3 home water wells still in existence in Cape Town was also found on this property, and in winter time as ground water siphons up in the well, visitors still drop a coin in the water, for blessings on their engagement or marriage, wishing to find the love of their lives, or hoping to return to Cape Town one day…
This property is open to visitors and our consultants will gladly share the history of the property through a guided tour.