We are excited to announce the upcoming auction of a beautiful and important all South African jewellery collection. The Kirstenbosch Crown Jewels were mentioned in a previous blog. At the time, we could not show the actual pieces. But here they are for you to see. Intrigued? This slideshow will tell you the story of this jewellery collection's origin, inspiration and purpose. You could own one of these delightful fine masterpieces. The auction will take place in South Africa and the funds raised serve an excellent purpose.
Click on this link to see the slideshow of The Kirstenbosch Crown Jewels:
www.prinsandprins.com/Kirstenbosch-Crown-Jewels.ppsx
 Prins and Prins' contribution is a bracelet and matching earring set named Watsonia and Dragonfly. The bracelet and earrings were designed and manufactured as a collaboration by Tasliem Omardien, Amy Bredenkamp and Lindsay Seymour.
"This bangle was inspired by one of the truly beautiful gems of our South African fynbos: watsonia. Watsonia adorns Kirstenbosch in various shades of pink and orange. From the bangle's platinum stems, rose gold watsonias bloom which house sapphires of golden-orange and pinkish-orange. Platinum dragonflies dance over the watsonia branches. Their wings shimmer with blue glass enamel plique-a-jour, in the style of the Art Nouveau era of jewellery masters celebrating nature."- Lindsay Seymour, Designer for Prins and Prins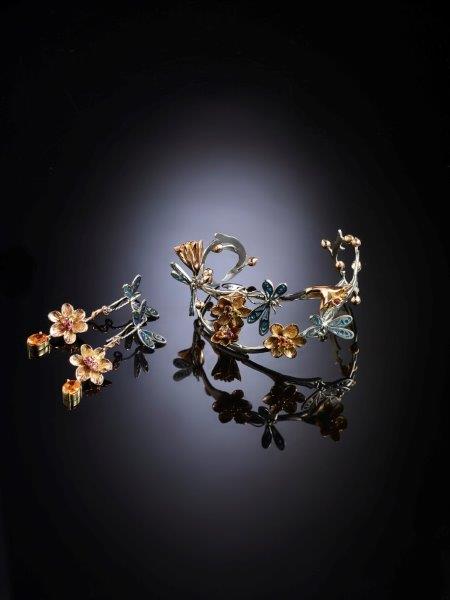 The full collection will be on show, shortly, at The Cape Grace Hotel, Cape Town. Watch this space to keep on eye on Kirstenbosch announcing more about the auction.