If you're fortunate enough to have some extra money, you might be tempted to invest it in securities like stocks or coins like bitcoin. What about something that has a little more… glimmer? Jewelry is the newest kind of cash, enabling those in the know to instantly convert pearls into significant rands. It is more than simply an ornament.
Never before has the fine jewelry business been this active or had a ROI as staggering as that of 2023. It is important to consider how much money you can generate from your investments rather than how much you spend, as evidenced by the popularity of resale websites like Depop and Vestiaire. And that's only the beginning.
Statista predicts that the global market for used fine jewelry will increase from an expected $444 million in 2021 to an astounding $1.3 billion by 2027. According to BoF and McKinsey research, the demand for branded used fine jewelry from companies like Van Cleef & Arpels and Cartier is predicted to surpass the fine jewelry market and account for up to 30% of the entire sector by 2025. Sophie Hersan, the co-founder and fashion director of Vestiaire Collective, concurs: "We noticed a 19% gain throughout the jewellery sector in 2022 vs 2021, making this a secure investment decision."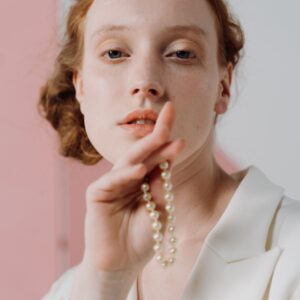 So, how can you be confident that if you purchase anything, you'll be able to recoup your investment when you sell it? Elizabeth Debicki's recent use of pre-owned Chanel and Dior pieces in The Crown is one example of Susan Caplan's expertise in the field of luxury vintage jewelry. Caplan says: "The financial investment comes from the rarity of a piece, its provenance, its historical association, and quality of craftsmanship."
One of the professionals assisting clients in locating the best Return prospects is Hanushka Toni, co-founder and CEO of the luxury resale portal Sellier. According to her, "luxury shoppers are turning to pre-loved more as a reliable source of real goods." Given the brand's limited-supply sales strategy, a Hermès bag appreciates in value on the secondary market similarly. According to Toni, the retail value of the 2022 Van Cleef & Arpels Alhambra holiday pendant (released to a select group of the company's devoted customers each year) is nearly double its original store price. Every time we placed one on Sellier, she says, "it sold out in minutes." Caplan continues, "A piece of vintage jewelry will gain in value if there is a great demand and a low supply." .
If you are interested in buying luxury second-hand jewellery, you can browse our collection online here: https://www.prinsandprins.com/vintage/